Feeding Frenzy Wins a Watty Award
I can hardly believe my supernatural thriller won an HQ Love Award in The Wattys. This award is given to the handful of stories most read and recommended by the Wattpad staff. Wattpad holds the largest online writing competition in the world with a community of 40 million. Feeding Frenzy was selected from among 75,000 entries. It appears on the Wattys list and just got a 'Wattys' badge added to the cover.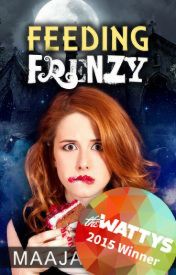 "Each year with The Wattys, we celebrate our community and recognize the stories that have captured the hearts of millions of people around the world," said Allen Lau, Wattpad CEO and co-founder. "We launched The Wattys in 2010 as a small writing contest. Today, it has grown into the world's largest online writing contest, and it brings the entire Wattpad community together in celebration."
Founded in 2006, Wattpad is a free app that lets people discover and share serialized stories. More than 40 million people use Wattpad in over 50 languages. The company is based in Toronto.
Feeding Frenzy to be Published in Paperback and Ebook
It may have won a Watty but I consider the free Wattpad version of my novel to be a draft. Sunday I sent off a newly revised version of Feeding Frenzy for professional editing in advance of its upcoming publication in ebook and paperback forms. I am delighted to announce that multiple award-winning editor, Sandra Kasturi, has agreed to take on the project. Sandra writes brilliant poetry, appreciates quirky fiction, and has a wicked sense of humour. The manuscript couldn't be in better hands.