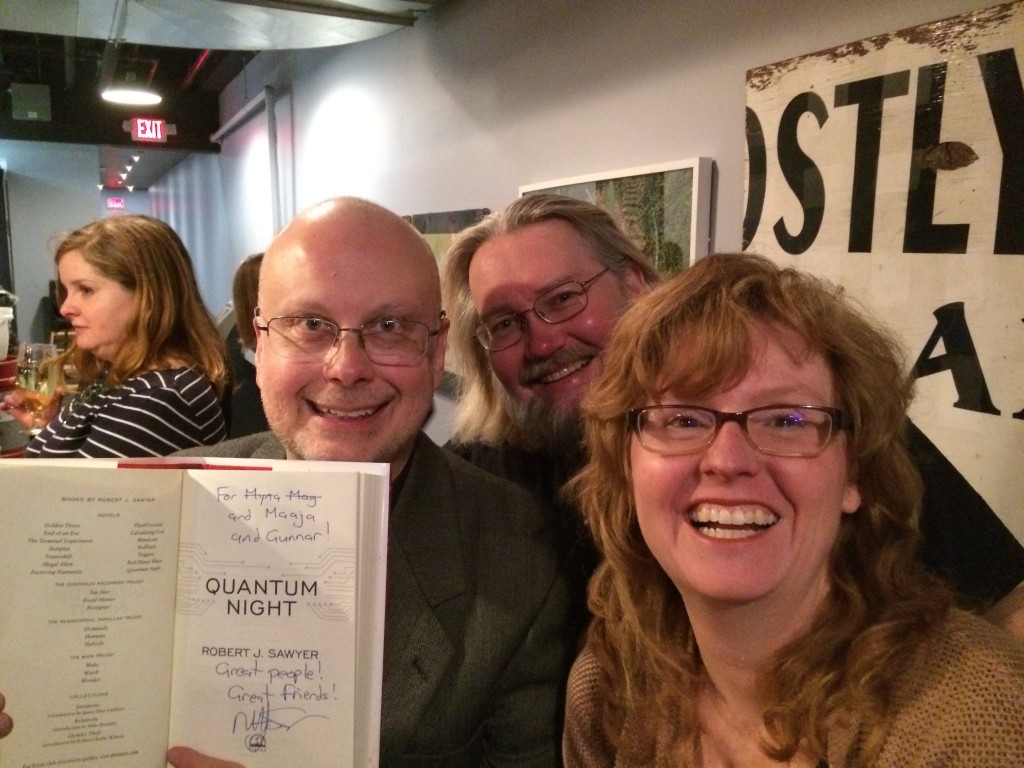 Book Launch
There was such a snowstorm March first for the Toronto launch of Quantum Night, that some feared attendance would be sparse, but Canadians are hardy. Returning home afterward I saw one cyclist on the road, riding through blowing snow.
Despite the blanket of flurries, Lansdowne Brewery was packed, even before the advertised start time. Rob offered up his seat so my husband and I could eat sitting down at the bar. Meanwhile, Rob Sawyer stood to sign autographs. A scholar and a gentleman indeed!
Quantum Night is a suspenseful read, although the plot is based in philosophy and theories of consciousness. For some reason this book hits all the right notes for me, right down to the David Chalmers quote that prefaces the story:
It may be a requirement for a theory of consciousness that it contains at least one crazy idea.
I found I could relate to the realistic characters, but it's ideas that make science fiction interesting. Perhaps it's pure coincidence that I read a stack of books on psychopathy this summer, or perhaps it's just the zeitgeist and Rob Sawyer is reflecting what preoccupies people right now.
The book is topical and political. At the launch, Sawyer told us he had to make last-minute changes to the manuscript to reflect the results of the Canadian federal elections. Prime Minister Justin Trudeau was considered a long shot for much of his campaign.
The other topic of fascination for me, so crucial to the plot of this book, is consciousness/ free will. Any book in which a character references The Origin of Consciousness in the Breakdown of the Bicameral Mind, is my kind of story. The question of when and how our prehistoric ancestors started to develop conscious thought is fascinating and contentious. Sawyer's story dives right into this controversy.
Sheep or Individuals?
The premise contends that the majority of people aren't conscious, but follow the lead of others like sheep, and that psychopathic leaders delight in manipulating the herd. For Sawyer there is another group he calls the quick, who are both conscious and ruled by their conscience. I bet all Science Fiction readers assume that they, of course, cannot belong to the unconscious "philosopher's zombie" group.
By the way, the sheep people who make up the majority are perfectly capable of holding down jobs, marrying and having children, and going out on Friday night like everyone else. To an outside observer it is impossible to prove whether a person who goes along with the crowd is making conscious choices or not.
It's perhaps the hardest part of the book to swallow, but also what makes it so much fun. What's the point of fiction if you can't suspend disbelief?
(I am experimenting with this affiliate links to Amazon Canada. The other links are to the publisher.)
Near Future Thriller
It's a convention of the thriller genre that there will be unbelievable feats or technology or events. The fact I remain skeptical of some speculative elements of the premise didn't make the story any less exciting. There is even a guilty geekish pleasure to be had in speculating that the in-crowd from high school to Hollywood might actually be made up of brainless zombies.
The intrigue centres around blind followers, psychopaths, and persons of conscience. The premise is that a device is invented which can change a person's makeup from one type to another. You can just imagine what might happen if this device were to fall into the hands of psychopaths, and of the difficult choices that must be made when it is discovered that the transformation is along a continuum. There is no way to use this power without plunging some conscious people into a state of sheepy unconsciousness.
In a world where one individual could press the reset button and change the makeup of humanity, will the result be our salvation or damnation? I leave you to read this very enjoyable book and conclude for yourself.