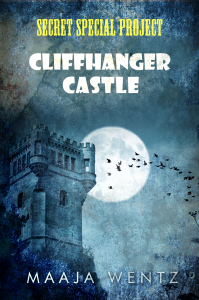 This is a writing experiment with its heart in community. Expect chills, thrills, and breathtaking plot twists…
Do you love chapters that end on a cliffhanger? One part contest, one part serial anthology, one part battle of writerly of wits; talented writers compete for the chance to captivate your attention. This story is inspired by a real abandoned hotel and artist's colony, overlooking lakeside cliffs.
Set around modern day Lake Ontario, Austen and Tiffany are two teens thrown into a nail-biting search for Austen's little sister, Rhea, and her pet dog Ciggaro. The trail leadsto a condemned hotel in the beautiful but perilous grounds of Cliff Park, an old estate with a chequered past and it's fair share of ghost stories.

-- Joanne Weaver

Chapters are are posted as they are accepted on Wattpad. If you aren't yet on Wattpad, you can read Chapter One here. You can also follow the project for email updates, and to enter the contest.
I'm editing this project, but even I don't know what will happen next. Maybe the next chapter will be yours…
*** Update: Cliffhanger Castle is on hold until after the publication of Feeding Frenzy *** 
For updates, sign up for the newsletter: [wysija_form id="3″]