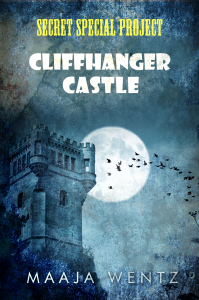 I'm hosting a collection of links to images and historical information related to the Secret Special Project: 
Guild Inn and Park History and Pictures
.
Guild Park and the abandoned Guild Inn inspire the setting for Cliffhanger Castle. Once associated with the Group of Seven, everything has existed on these grounds from a military barracks, to an artist's colony, to an early settler's log cabin. The grounds overlook the Scarborough Bluffs, a steep escarpment above Lake Ontario. The Greek Theatre and various arches, walls, and decorative architecture on the park grounds have been salvaged from demolished buildings. Until recently, the Guild also featured an abandoned luxury hotel from the 1960's. There have even been reports of ghosts.
In the interests of twisting a fine, suspenseful yarn, Cliffhanger Castle takes place at a fictionalized Guild Inn, where all the historically interesting and spooky features of the grounds exist simultaneously.
Chapter One is mine, and sets the tone for future chapters. Chapter Two is written by Watty award winner,
Joanne Weaver
. I hope to get many submissions for future chapters. Only the best merit inclusion in this serial anthology. Read on if you love a good cliffhanger!
Read it 
here
, on Wattpad. (Joining takes moments and unlocks 100 million free stories.)