Update: This giveaway is over.
Subscribe to the Loon Lake reading club to be informed of future contests:
Loon Lake reading club
You could win 10 Kindle bestsellers just by entering this free giveaway.
I like YA fantasy and science fiction so much I'm running a contest. Enter as many times as you like and earn extra entries by sharing this giveaway with your friends. Here are the details: Whether you call it a sweepstakes, a giveaway, or a contest, scroll to the bottom for your chance to win. One lucky winner will walk away with $150.00 CDN in YA fantasy and Science Fiction Kindle books.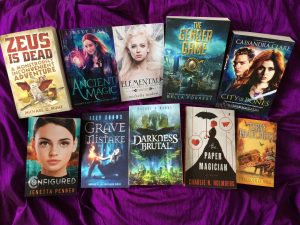 Explore new worlds with these top-ranking YA Kindle books. From paranormal thrillers and fantasy to cutting edge science fiction, these stories will grab you by the imagination and take you for a thrill ride. Spend time with compelling characters in unique worlds which will appeal to teen and adult readers of YA fantasy and science fiction.
Win 10 Kindle bestsellers:
Colour of Magic by Terry Pratchett

Book 1 in the celebrated Disk World series. 

City of Bones by Cassandra Clare

#1 New York Times bestselling series.

Zeus is Dead by Michel G. Munz

A murder mystery and a cosmic showdown. For fans of Douglas Adams, Terry Pratchett, and Percy Jackson.

The Paper Magician by Charlie N. Holmberg

An extraordinarily dark and whimsical adventure.

Ancient Magic by Linsey Hall

FireSouls, dragon magic, and shifters caught up in a life-and-death adventure.

Configured by Jenetta Penner

In the future, love will make you a traitor. Join the rebellion.

Grave Mistake by Izzy Shows

Paranormal noir with a kickass heroine.

Darkness Brutal by Rachel A Marks

Demons, ghosts, and passionate energy in an all-out battle of light versus darkness.

Elementals by Michelle Madow

A new series for fans of Percy Jackson and the Secret Circle.

The Gender Game by Bella Forrest

For fans of the Hunger Games and Divergent
Sharing = more chances to win
Don't forget to share this contest with your friends and on social media to increase your chances of winning. For more information and for free fiction, don't forget to visit maajawentz.com.