I was recently accepted as a judge for the Mash Stories Competition. The Mash Competition appeals to my fascination with randomly inspired art, and artistic experiment. Each quarter, Mash posts three unrelated words. Participants incorporate these words into 500 word stories of any type. It's not necessarily Dada poetry, but in the right hands, it certainly could be!
I'm flattered to be accepted as a judge, but when Mash featured me in their most recent newsletter, I was disappointed that I couldn't provide a link back to BWW, my beloved critique group.
Over the years, I have owed a lot of my progress to Bloor West Writers. Prize-winning and published authors belong to BWW, but without a website, there was nowhere to gather their achievements and interests. To correct this oversight, I started a website we can contribute to collectively.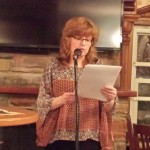 Here's my bio, which also got an overhaul:
Maaja Wentz's Dionysus-inspired poem "Fallow God," appeared in EDGE's Urban Green Man anthology. The experimental story "You," won a prize in the national Norma Epstein Foundation competition for Creative Writing.
Her one-act play, Midnight Fran-pire, was produced at 'Fran's Café' by Toronto's Alumnae Theatre. She recently won a writer's grant from the Writers' Circle of Durham Region. She is a member of the WCDR, Sunburst Award Society, Ontario Library Association, and Bloor West Writers.
Partial to live readings, Maaja has performed her work at poetry slams, reading series, and science fiction and fantasy conventions. She Maaja holds an M.A. in Comparative Literature from the University of Toronto, where she studied works in English and French, and developed a life-long fascination with the 'Gargantuan' works of Francois Rabelais.
Her most recent projects include a serial novel, Feeding Frenzy, and an interactive novel called Cliffhanger Castle. Maaja is a teacher-librarian in Toronto, where she has written and produced a handful of children's plays.