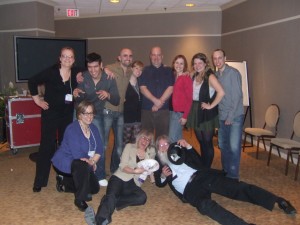 I will be doing a reading of short fiction and poetry at Can-Con in Ottawa, Saturday October 4, 2014. My co-reader will be novelist S.M. Carriere. One of the best things about conventions is meeting and discovering new authors and making new friends. Conventions are magnets for creative people in the arts and multimedia.
Can-Con is an Ottawa convention which brings together Canadian authors and content creators in science fiction, fantasy and horror. I attended last year for the first time and was impressed by the warmth and welcoming atmosphere. I spoke on the NaNoWriMo panel which brought together a variety of writers. The highlight for me was going out to lunch together and trading stories.
According to their website:
CAN-CON is Ottawa's premiere Science Fiction and Fantasy gathering celebrating the written word. This yearly event brings together readers, writers, artists, scientists, and publishing professionals for panel discussions, workshops, presentations, readings, book launches, networking opportunities and to have fun. CAN-CON is a function of The Society for Canadian Content in Speculative Arts and Literature.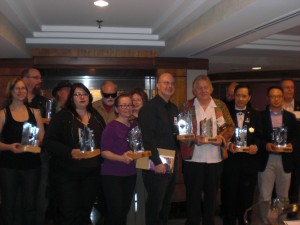 The 2014 Can-Con guest of honour is author Jo Walton, winner of the Nebula Award, the Hugo Award, the John W. Campbell Award, and the World Fantasy Award. The editor guest of honour is Gabrielle Harbowy of Dragon Moon Press. Also check out the panelists.
Why Attend a Convention?
Conventions are fun if you like science fiction and fantasy novels, and/or speculative movies and shows. There are even conventions dedicated to comic books.
Much more casual than conferences, 'cons' run on volunteer power. Organized by and for fans, at a convention it's easy to meet a favorite author. He or she will probably attend the same parties as you.
If half the convention action is at the parties, the rest is split between concerts, award ceremonies, panel discussions and special events. At some cons there are workshops and fashion shows for fans who build and wear costumes inspired by anime, books and movies. There might be an improv show, fire works or even a star gazing workshop. It depends on what the organizers and participants decide.
The panelists at conventions discuss topics as far-ranging as politics, art, science, technology, genre conventions, cultural diversity in literature, and music. My favorite panels are about writing, including workshops, publishing panels, flash fiction contests, author readings and small reader-author meetups called "coffee klatches."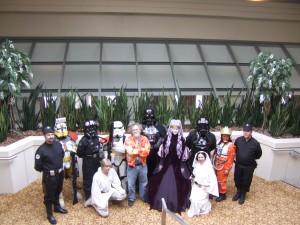 Conventions for Creativity
My very first convention was AD Astra, in Toronto. The experience was so creatively stimulating, I went home afterward and wrote my first (unpublished) novel in a six-week streak. If you are into speculative fiction and appreciate geek culture, attending a local convention might be your ideal creativity boost.
A few recommended conventions:
World Con (location changes annually)
World Fantasy Convention (location changes annually)
Can-Con 2014 (Ottawa)
Ad Astra (Toronto)
SFContario (Toronto)
My list is limited to conventions I have attended in Ontario and Quebec. Wikipedia offers a much longer list of conventions where you can find something local to you.
Have a great con!