Should a writer create her own book cover?
Most artists would recommend leaving cover creation to the professionals and I will. The cover to my self-published ebook, Feeding Frenzy, will be professionally designed. It's my most popular work yet, garnering a Watty award on Wattpad and ranking #11 in mystery/thriller. Currently, I'm working with an exceptionally talented editor to take the book to the next level. It would be foolish to put the finished book out under a bad cover. Nobody would want to read it. My hope is that the finished cover will include the best elements of the cover I had made for Wattpad, but with professional graphic design.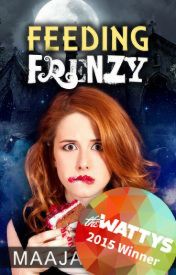 What about free books?
That said, there is the question of freebies. I would like to reward visitors to this blog with free stories. So far I only have one freebie readymade. The Fiendish Plot of Doctor Cyclone
is a screenplay based on my middle grade novel of the same name. I adapted the story for media club because I love putting on a show with kids. A drama club is nothing like the dreaded classroom play in which stage-shy students must force themselves to perform.
The movie includes 'green screen' key effects which allowed me to place my actors on a space station and inside a mine on the moon. Although I'm proud of the project — proud enough to create a souvenir ebook and give it to the participants — I know most people don't read screenplays. Cyclone
 should make fun reading for kids, parents, or educators, but it lampoons science fiction cliches — not everybody's cup of plasma. I need a better freebie to offer readers.
Do you have an extra $1000.00 lying around?
You can spend pots of money on a good cover but I choose not to spend $1000.00 on the book cover for a thank-you gift. "Wild Caving," appeared in a print anthology. I am reserving the ebook version as a gift for members of the Loon Lake Reading Club. I'd rather save the cover money and spend it on lavishly editing and producing my next Loon Lake novel. Right now it's sitting in a drawer, waiting patiently for Feeding Frenzy to come out first, but in some ways I think it's the better novel.
Have your say
With Photoshop, I made a book cover for my literary suspense story "Wild Caving." It's a creepy tale that was short listed for a contest and has been published in the Amprosia anthology.
Since it is not available as an ebook I thought I'd make it available for free to anybody who signs up for the Loon Lake Reading Club. Everybody likes to receive a free book, right?
What I am less sure of are my skills as a cover designer. Please take a look at the test covers below and tell me what you think. Wild Caving, unlike most of my writing, displays no sense of humour. It's creepy and more literary, written in the voice of a uniquely nasty narrator. Judging by audience feedback at readings, I think people will like it, but they won't ever read it if the cover stinks.
Please look at the covers below and, even better, share them on social media. I need your help! 🙂
Book Cover Feedback
If you have a moment, I'd love to hear your opinions.
Which cover is best?
Is either cover good enough to catch your attention and make you want to click?
Cover A versus cover B versus cover C…