Are you ready to achieve your biggest goal? Inspired by the best thinking in the areas of productivity, habit, and creativity; I designed this quarterly journal to help you meet one big goal in 90 days. Let it change your life in the area of your choice. Whether you are interested in writing a book, starting a business, finding more customers, losing weight, learning a language, spending more time with family, getting in shape, or winning a competition, this journal will keep you inspired, organized, and focussed on success.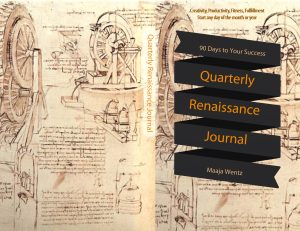 Achieve your Goal with Quarterly Renaissance Journal
Inspired by genius Renaissance inventor and artist, Leonardo DaVincci; this quarterly journal will inspire, organize, and motivate you to create your own personal renaissance. You won't believe what you can accomplish by focussing on your top goal using this structured, inspiring methodology.
Get the Expert Advantage
Too many people get discouraged because changing habits and meeting goals is difficult. Don't feel bad if you have failed in the past. The secret is working with human psychology instead of against it.  Whether your toughest challenge is finding enough time, ending bad habits,  goal setting, or resisting temptation; there's an easier way to succeed.
Why not enjoy success instead of setting goals you never reach? You could read a shelf full of self-help books, or take a course on time management, or start a bullet journal from scratch, but who has the time? The Quarterly Renaissance Journal is written with best practices and techniques already built in so you can just concentrate on what matters: your success.