If you would like to see some samples of Maaja's creative writing, please visit the following links. Many of these websites, including Wattpad, offer free fiction and poetry for your enjoyment.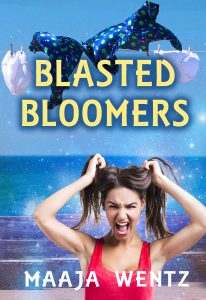 "Blasted Bloomers," (Link to get the free ebook from all major ebook stores)
This is a prequel to Feeding Frenzy. When sweet but chubby Tonya scores a date with a bright, athletic hunk, she wonders what he sees in her. To assure her date is a success, she decides to wear her aunt's charmed undies. Will the magic bloomers ensure seduction or disaster? Read the free ebook to find out.Blasted Bloomers
Maaja's Creative Writing in Anthologies
"Fallow God" in the Urban Green Man Anthology (Link to buy the book)
"Wild Caving" in the Amprosia Anthology.
You can also get this story and another story of magic and male/female relations if you join the Loon Lake Reading Club.
Feeding Frenzy was featured by Wattpad and then went on to win a Watty award. If you like a fast-paced plot, and a little humour with your horror, this may be the book for you. In this supernatural thriller, Tonya wants to leave her magical family and its problems behind when she starts university. Too bad past deeds have planted the seed for a new threat, growing out of control and threatening the future. Doomed to battle a mind-controlling entity with its roots literally sunken into the town, Tonya must face up to dark secrets in her family's past before she can defeat a deadly eating epidemic.
Creative Writing: Wattpad shortcuts
Discover more creative writing: novels, poems and short stories on Wattpad, including Feeding Frenzy. Check out the number in front of the 'eye' icon below. It represents how many thousands of reads the story has received. (K=1000).
Cliffhanger Castle, a serial anthology experiment, and the first story of its kind on Wattpad.
Creative non-Fiction
"I Wish My Teacher Knew" is a collection of non-fiction stories about school, written by teens and adults. The idea is to collect first-person accounts of positive and negative school experiences to inform my writings on Creativity in Education. If you would like to add your own personal experiences, your submission is welcome. Contact me here or via Wattpad.
Creative Writing: Poetry
Environmental catastrophe, with apologies to W.B. Yeates.