WCDR hosts Words of the Season, a quarterly evening of author readings and music. This Tuesday, it will be my privilege to emcee for the third time. The format of the evening is two sessions of reading and musical entertainment, divided by an intermission. To start the break, I set up a game for the audience who are primarily writers. This makes my job very easy. They write all the best material! One of the funniest parts of the evening is reading their contributions out loud. Let's hope this quarter's topic, procrastination, stimulates their imaginations.
Words of the Season for June 20, 2017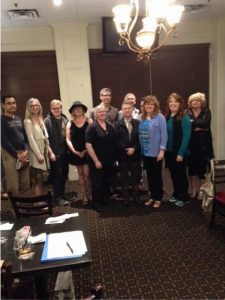 An Introduction:
True story: For weeks, I was cracking my head over trying to think of something to say tonight until… eureka! I got an idea. I could use writing this intro to avoid editing my novel. Suddenly the words started flowing.
Have you ever written a nice piece or got applause for a performance, but afterwards felt like it was a fluke? Then, the next time you had to write or perform, instead of feeling more confident, you felt like expectations were raised and this time you'd fall on your face? It happens to me all the time when I get recognition for a piece – or when Lesley graciously invited me back to emcee tonight. – By the way, thanks Lesley! 😊
And where do writers go when they're feeling stressed and overwhelmed? They don't even have to hop on a plane. They just blink and suddenly open their eyes smack in the middle of the Procrasti-nation. It's a Nation like no other, full of people who should be getting things done but who are too blocked or stressed to move forward. I've spent entire weekends there, haven't you?
When I'm stuck on a project or fearful I can't meet a high standard, suddenly there are a million other things to do. I'm working through the second pass edit on Feeding Frenzy now. Since I'm self-publishing, whatever I hand back to the editor is getting proofread and uploaded to Amazon. You can't imagine how terrifying it is to realize there's no one to tell me "No, this novel isn't good enough."
I blocked out all last weekend to edit but guess what I did? I researched flowering shade plants and ordered seeds online, I ate ice cream sandwiches, started drafting a kids' chapter book, watched instructional videos, and read writing craft books that made me feel even more inadequate. By the evening, I was so worn out from procrastinating that I gave up and watched Netflix.
Why do we do this to ourselves? Why is artistic resistance (that irresistible force that sends me hunting for chocolate) so hard to overcome?
[shrug]
I'm hoping tonight's performers can enlighten us. Each and every one of them had to overcome artistic blocks and procrastination to get here. Let's applaud their determination…
[Author readings, musical interlude, etc.]
[Start of the Intermission]
Procrastination Follies.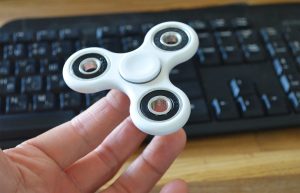 Intermission Game: Procrastination Station
As an icebreaker tonight, tables will receive slips of paper. The game is simple. Think of your funniest or most touching procrastination story or technique. It can be about anything: giving a performance, writing an essay, speaking at a wedding, revising a story, studying for an exam… Write down the most outrageous things you've done to avoid hard work — or your favourite last-minute deadline hijinks.
(By the way, last time your 'bad advice for writers' ideas were so wonderful, I was dying to share them on my blog. If you want to receive credit this time, print your name on your entry.)
After the break, we'll read out your anecdotes. No pressure now. 😊
Update: As expected the audience did not disappoint. Here is their procrastination advice.
How to procrastinate when you should be writing:
Bake! Four dozen cookies, eight lemon loaves and 48 cranberry muffins later, I'm finally ready to write! (But not read… My mouth is full…) (Ann Rocchi)
ways to procrastinate:
• Drink
• drink some more
• Snzzz…
Ways of procrastinating? I will write my ideas later, when I have more time.
Listen to music or write some verse (Faisal Azeem)
check mindless email ads on the computer
My husband entered a seven-day mountain bike race in C but wanted to go four days early to train with his buddies. Afraid of flying, instead of a five hour flight I chose a five-day drive. Not only did he think I'm crazy, two different border crossing agents found my story very hard to believe (Jenny)
My friend Charlotte was supposed to be studying for a Masters degree in social work. One day she suddenly realized she was dusting the beams in the ceiling of her basement. "I don't even dust my living room," she said to herself "what am I doing down here?"
My house gets the cleanest when I have a class set of badly-written essays to mark
Sleep, who need sleep? I can do it later. For now – tonight! — We live… Or at least we keep busy enough that we can tell ourselves we're living.
Ways to procrastinate: Read War and Peace
I was supposed to read a chapter on the Spanish Inquisition… I wrote gay M/slash fan fiction instead… No one expects the gay Inquisition! (N Aaltonen)
Someone on the Internet is wrong and must be corrected!
I prefer to fly thousands of miles away under the pretenses of finding a new place to write and then choose a myriad of ways to avoid looking at my keyboard. (Kevin)
I procrastinate when I have to do research. Every answer leads to another question and so on and so on. I flip over to Facebook, feel guilty, go back and forth back and forth. I look in the fridge, feel guilty about eating when I'm not hungry, so look up dogs available for adoption. Walking dogs burns calories… I feel less guilty about looking in the fridge. (Lesley Cadham)
I wanted to do some timed writing exercises… But everything had to be just right so I spent a full 30 minutes choosing which alarm tone to use on my phone. (Janet)
Watch 112 episodes of once upon a time
watch 340 episodes of Dallas
Went in the backyard to do poop patrol wearing heels which sank into the soil still damp from an overnight rain, then decided to aerate the entire lawn with my shoes