Why Should you Write Serial Fiction on Wattpad?
Have you thought about writing serial fiction on Wattpad? I have used Wattpad to conquer writer's block and overcome my ongoing fear of rejection. Before I started posting stories on this platform, I had multiple drawers full of short stories and novels which I had not submitted anywhere. Wattpad was the perfect place for me to get my work in front of an audience without facing rejection.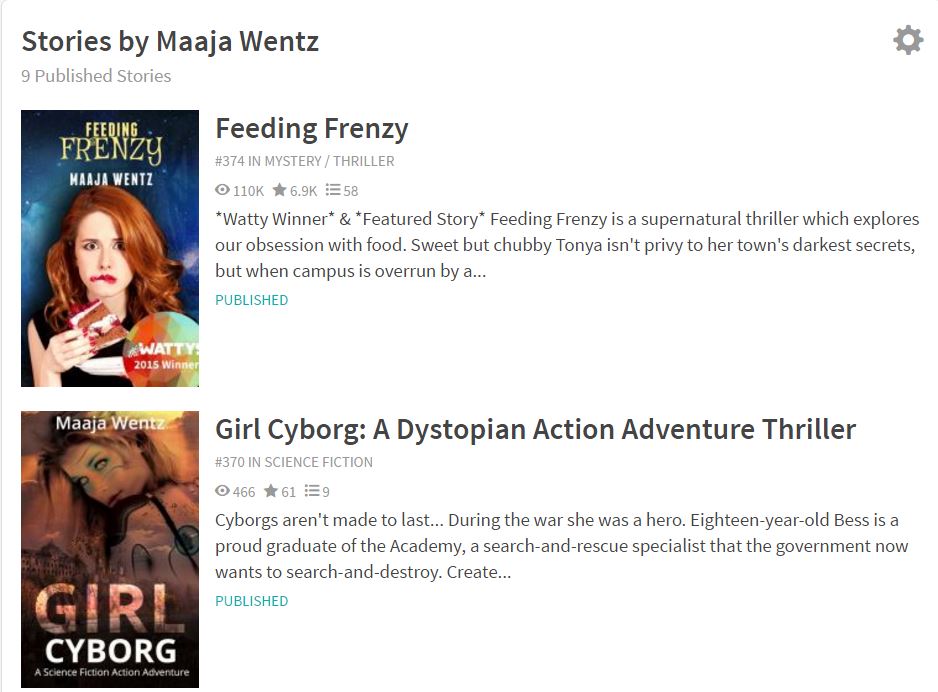 The Wattpad Effect
Since posting my supernatural mystery/thriller Feeding Frenzy, I have had my story "featured," won a Watty award, and I have been asked to do readings and to speak on panels at conventions. Knowing there is an audience for writing like mine encourages me to write and submit more pieces for paying markets. As a result, I currently have poems accepted for publication and short stories submitted and awaiting acceptance or rejection. Editors can accept or reject them but Wattpad experience has melted the hard frost that immobilized me. Sending off a story doesn't freeze me in my tracks me anymore. This change in attitude could not have happened if I didn't dare myself to post one novel chapter per week on Wattpad. Once you can do that, submitting a short story seems easy. Posting a novel as you write it is like a tightrope walk without a net. The secret is knowing which circus to join and where to lay your rope.
Posting a novel as you write it is like a tightrope walk without a net.
Join the Right Circus
There is no more positive platform on the Internet for writers at any stage of their career, but especially for those just getting started. If you know a teen who wants to be a writer, direct them to Wattpad. Learning to write live, in front of an appreciative audience, is a fast and motivating teacher. That said, Wattpad works for adults as well. Here are ten reasons why Wattpad might work for you.
10 Reasons to Write Serial Fiction on Wattpad
For writers in the early stages of their careers, Wattpad is a great sandbox to experiment in and find new readers. The platform divides stories into genres and categories and uses similar search dynamics to Amazon or Google so story creation has readership and discoverability baked into the platform.
Readers far outnumber writers on Wattpad which has over 45 million members worldwide. This community spends a collective 15 billion minutes per month reading and interacting on the Wattpad platform. My story, Feeding Frenzy, has over 110 000 reads as of today's date (2016-12-18) and this number rises every week. Writers in the most popular genres, like romance, can reach multiple millions of reads.
Wattpad readers are part of a social network. They love to interact with their favorite writers, vote for stories, and add them to their libraries. Readers also make comments about individual chapters. If readers choose to follow a writer, they receive email alerts in their inbox about book updates and any messages the writer posts to his/her Wattpad author page.
Wattpad provides precise analytics about who is reading your story (sex, age, country of origin) in the form of attractive, easy to interpret graphics. For example, I know that my new dystopian science fiction novel, Girl Cyborg, is being read by men as well as women, while my zany supernatural mystery thriller, Feeding Frenzy, attracts a mostly female audience.
Having readers who expect regular updates is the perfect kick in the pants to keep project momentum. Writing on speculation without a deadline can be both lonely and frustrating. Writing for Wattpad readers is the opposite. Not only do your followers and readers on Wattpad look forward to your story, but they also make positive comments which help keep you going.
Everything you post on Wattpad is done for free. Although the platform is interested in finding ways to monetize readership and give some of that money back to authors, there is a certain allure to writing something purely to entertain other people without commercial pressures. You can write under a pen name if you want to remain anonymous, as many people do.
Wattpad is a digital medium popular with millennials who are less materialistic and more idealistic, with a desire to be part of something important. Writing stories on Wattpad is akin to the maker movement on an international scale. On Wattpad, you can express your creativity without needing to please publishing gatekeepers like agents and editors. This free platform allows you to instantly publish story chapters as they are written. Other members of the community may offer to provide related graphics, a cover, or even a book trailer if they love your work.
Published authors can use Wattpad to increase sales. One proven tactic is to take a book which is already available for purchase on the e-book stores, and then begin releasing one chapter per week on Wattpad. Avid readers who want to get to the end of the book faster can click on a buy link posted by the author. For more on this strategy, watch my interview with romance and fantasy author, Linda Poitevin.
Rankings, awards, and the opportunity to get your story "featured," are exciting incentives to work harder and reach new readers. They are also incentives to hone your craft, polish your stories, and make them more engaging. On Wattpad, the most compelling and compulsive read wins. Whether you write literary fiction or genre fiction, or something more experimental, adding page-turner techniques to your toolkit can make you a better writer.
Writing is an interactive art and Wattpad provides an audience from day one. It's very romantic to imagine the tortured artist in a garret writing pure art based on Platonic ideals. Sometimes this is how writers are depicted in movies. For me, writing just for myself would be like acting in an empty theatre. Creating art without sharing is rehearsal, an essential part of writing that comes before sharing your work with others. Only an audience can say if your work is having the effect you intended.
Writing for Wattpad is not for Everybody
Despite these reasons to write for Wattpad, there will be many skeptics who think it's a bad idea. They're not wrong. Wattpad is not for everybody, particularly established writers who do not need to look for new readers or who do not write YA, Fantasy, Science Fiction, or romance. If your novels are already literary successes or popular bestsellers, there may be no commercial reason for you to join the ranks of authors who have posted fiction on Wattpad such as Margaret Atwood, Scott Westerfield, and RL Stein. That said, there may be artistic and social reasons.
For me, Wattpad works best when you think of it as one part artistic experiment, one part social media platform. It is a wonderful place to meet writers working in the same genre as you, as well as to interact with readers of your work. For those who prefer working alone without reader feedback, Wattpad won't improve the writing experience. Wattpad also lacks snob appeal. Many of the readers on Wattpad are teens still developing their literary tastes. Writers who seek traditional acclaim and literary awards might hesitate to associate themselves with a platform known for publishing fanfiction and unedited first drafts. To such writers, I can only say à chacun son goût. I have had nothing but positive experiences so far. Wattpad isn't for everybody but it might be for you.